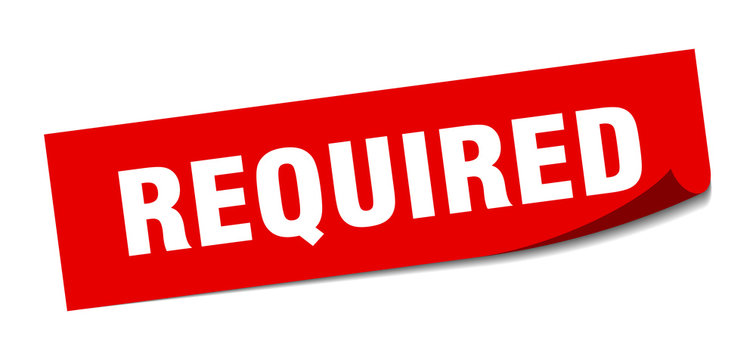 60% Acceptance rating is required?
App based delivery services have always had a very thin line between a driver being an employee or an independent contractor, so much so that the states like California & New York have stepped in and required certain changes from them to ensure drivers are actually independent and free to make their own choices without risk of deactivation.
While not all things are adpoted from state to state, one of the most critical policies for drivers that came from an Uber & Lyft lawsuit in 2016 did pretty much become a standard for gig based work, which was that no company would force independent contractors to maintain a certain acceptance rating percentage in order to remain active on the platform. In simple terms, drivers could decline any & all request they deem not profitable without worrying about their contract being terminated.
Bitesquad, purchased by Waitr Holdings in 2019 is now requiring a 60% acceptance rating for independent contractors to remain active on their platform in certain markets. You read that correctly, this isn't about accepting and then unassigning the orders, but the initial offer you see. (see image below)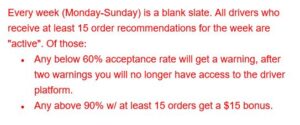 Although this isn't listed on the deactivation policy for Waitr, it does seem like it is being slowly rolled out to multiple markets for Bitesquad, currently we have seen about 5 different ones in the Bitesquad drivers group on Facebook. And each email seems to have it's own internal link to that market policy, such as Bitesquad Greenville deactivation policy.
Although I don't personally like the bitesquad app & I believe their support is probably one of the worst, I did reach out to them to have them clarify if this was an error or if they were planning on going through with this. The few first emails were just them telling me it wasn't in my area, so I had to press harder for them to give me an actual response and here is what they wrote.

Dear Gary,

There are a number of factors that go into whether a worker should be classified as an employee or an independent contractor.  Because we know that our drivers appreciate the flexibility that being a contractor provides them, we work hard to maintain this type of relationship.  That being said, like all other companies, we do need to guarantee our customers a minimum level of service and satisfaction because they are the backbone of our success.  We believe that the 60% acceptance rate still provides drivers with plenty of choice on which orders to accept.  And if a driver does not want to take 60% of the orders recommended to them because they think they can make more money on another delivery platform (or for other reasons), that is certainly their choice as well.  And drivers still have the option of working as little or as much as they want.

We thank you for bringing this concern to our attention.  We will continue to review all relevant factors as we roll out our minimum acceptance rate program.
One of the first things in this response email that stood out to me was "That being said, like all other companies,", which I found odd as Bitesquad is the only platform that I could find that is requiring an acceptance rating, so I wonder if Waitr is considering doing the same thing?
The second thought I had, was even if a driver accepts 1 delivery an hour, that is 1 extra delivery you are having delivered quicker, so if drivers choose not to run your platform at all because of the acceptance rating requirement, wouldn't that make your "customers a minimum level of service and satisfaction" drop even further?
So what can drivers do?
There are a few things drivers can actually do, the very first thing I would suggest all drivers do is email the company, both Bitesquad & Wair and let them know your dislike of this policy and that you believe drivers should have the right to decline offers. When emailing any company about a policy, you also need to stress that your email is not an attempt to deactive your driver account, they will try to be sneaky about using it against you.
The second thing drivers can do is just don't use the bitesquad driver app at all, choose a different platform, Ubereats, Grubhub & Doordash are in all the markets that Bitesquad/Waitr are in. If 15 drivers that normally take 1 delivery per hour no longer use their app, they now deliver 15 less orders in a timely fashion which would in turn force Bitesquad/Waitr to reconsider this policy.
As a customer, do not order with Bitesquad, instead choose a platform that drivers are happy to drive for, not only are you going to get your food quicker, but you will most likely have a better customer experience. Also Ubereats, Grubhub & Doordash operate in all the markets and have lots of promo's.
Reach out to your state reps and get them involved, let them know you signed up for gig work for the independent part of it and by forcing you to accept orders makes you an employee. Especially in states where current rideshare or delivery laws are being passed.
What if I am deactivated over this policy?
No one likes to see this happen, it is bad for the customers when drivers aren't available & bad for the drivers just trying to earn money, but it does happen. If you really want to be part of Bitesquad or have no other platform options, the first thing we suggest is to reach out to Legal Rideshare, they also handle more than just rideshare cases and can sometimes help with deactivation and guide you further. They do charge a one time fee of $24.99 for this service.
Unless you opted out of arbitration it is very unlikely a lawsuit will work, unless it is a major class action that waives your arbitration agreement or a judge finds it in your favor. So if you need to get even more legal with it you might have to settle for arbitration. You may find the arbitration section at their terms-of-use policy, and as well as how to start it below.
To begin an arbitration proceeding, you must send a letter requesting arbitration and describing your claim to BiteSquad.com, LLC, 214 Jefferson St., Suite 200, Lafayette, LA 70501, Attn: Legal Department. The arbitration will be conducted by JAMS under its rules and pursuant to the terms of this Agreement. Disputes involving claims and counterclaims under $250,000, not inclusive of attorneys' fees and interest, shall be subject to JAMS's most current version of the Streamlined Arbitration Rules and procedures available at http://www.jamsadr.com/rules-streamlined-arbitration/; all other claims shall be subject to JAMS's most current version of the Comprehensive Arbitration Rules and Procedures, available at http://www.jamsadr.com/rules-comprehensive-arbitration/. JAMS's rules are also available at http://www.jamsadr.com (under the Rules/Clauses tab) or by calling JAMS at 800-352-5267. Payment of all filing, administration, and arbitration fees will be governed by JAMS's rules.
Disclaimer: This article is meant for informational purposes only!  You should talk to a lawyer before proceeding with any legal actions.
Update: It appears Bitesquad has retracted with this beta program according to an email sent out to users in those markets effected. Clearly there was a lot of driver pushback for this program, which is understandable since all drivers are independant contractors.