What is #declinenow?
By now you have heard of #declinenow and this is why you are here, but what exactly is #declinenow? Is it a movement, strategy or is it just a bunch of drivers just cherry picking orders? With so much misinformation out about #declinenow it is hard to tell exactly what it means, or how it should be implemented into your dashing.
According to the creators of the #DN movement, they are using a basic "transport logistics" approach and applying it towards app based on-demand food delivery, with the specific approach geared towards the Doordash pay model and algorithm. The strategy of declining low paying offers for higher paying ones, works to increase the driver's profits and improve the delivery zones to have higher pay rates.
Each time a driver declines an offer it forces Doordash to add extra base pay to the low paying offers that the distance is too far away or the customer did not tip. The #declinenow Facebook group calls this a two pronged result.
Decline low paying offers for higher more profitable ones considering mileage and,

Forces the Doordash "Gaming" algorithm to add base pay to declined offers, effectively turning them into profitable offers for subsequent drivers who apply the same strategy.
While not exactly a core part of the #declinenow strategy, this also forces Doordash to show the true payout if an order has been declined enough times. Since not all offers are actually low paying, some are simply just Doordash hiding the true payout.
Using this strategy the #declinenow group has proved it only takes a small amount of drivers declining low paying offers to help boost the base pay rate, which results in higher paying offers, which will help offset the amount of drivers taking lower paying offers and overall drivers in the zone will have higher pay averages.
To make it simple, #declinenow is a movement by Doordash delivery drivers who are using a basic strategy to work together to fight an unfair algorithm created by Doordash, which offers low base pay on offer request.
Doordash has proven that they care about profit, not drivers, so drivers will have to look out for other drivers. Declining low paying offers does work for every market, creates less frustration for drivers and higher paying offers, don't just take our word for it, follow the #DN strategy along side the other 33,718 drivers currently in the #declinenow Facebook group and see for yourself. The more drivers using this strategy the better it will work.
Does #DN support top dasher status?
The #declinenow movement does not support top dasher status for taking low paying offers, the group believes it is a false incentive designed by social psychologists to make drivers chase unprofitable deliveries that only benefit the company.
Isn't this just cherry picking offers?
No, the #declinenow group isn't saying don't take profitable trips, in fact they are telling you to take them if they are profitable. The #declinenow strategy isn't just about sitting around declining offers until you get nothing but unicorns, it is about raising the pay averages of all drivers.
What is the lowest paying offer for #DN?
While there are a few more things to consider when accepting an offer, the lowest paying offer accepted should be $7.00, which could also include peak pay and/or customer tips. Although it is stressed many times that you should consider time & mileage when accepting an offer, don't just go off per order amounts. A $7.00 order with a low per mile rate or that would take you an hour to complete, would not be considered a good order.
Will I be deactivated for declining offers?
No, there is no requirement for any dasher to accept any order they do not deem profitable. You can have a 0% acceptance rate on Doordash and you will not be punished for it. (See screenshot below)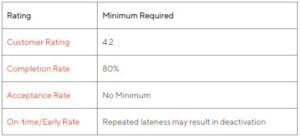 You can find more about your required ratings with Doordash here.